The Institute of Education (I.E), UCC, in a statement released has finally confirmed date to Publish Results of the Final Year Trainees of Colleges of Education across the country.
BACKGROUND INFORMATION
Final Year Teacher Trainees, who are the last batch of Diploma in Basic Education reported back to campus on June 22, 2023 in response to the President's directive on resumption of schools for only terminal groups of all Educational levels in the country.
These trainee finalists reported to Campus on the said date purposely to prepare ahead and write their final two papers. These two exit exams/papers, that is, Trends and Management in Education and Guidance and Counselling were written on July 2 and 3, 2023 respectively.
MARKING OF SCRIPTS
According to the exam body, Residential Marking of Scripts started on July 6 and ended on July 12, 2023. Meaning, less than a week was used in marking of over 40, 000. You can imagine the accuracy of the scoring, grading and entry of results.
PUBLICATION OF RESULTS
The exam council has finally settled on Thursday, July 23, 2023 to make official publication of Student Results. Also, Results Statistics will be sent to the Individual Principal of the Colleges. Last year, Students were directed to access their own Results online from the UCC's portal.
Similarly, there is the likelihood of going by this approach since Students who are far from their Colleges cannot travel to Campus just to check Results on the notice board. If this is going to be possible, then Students will be logging in by the Unique Registration/Index Numbers. We, therefore, promise to save lives in this pandemic.
DETAILS OF RESULTS (COURSES)
1. Trends and Management in Education
2. Guidance and Counselling
3. Teaching Practice
4. Project Work
These are the final four courses of Diploma in Basic Education and you're expected to see your grades on only these four.
READ FULL STATEMENT BELOW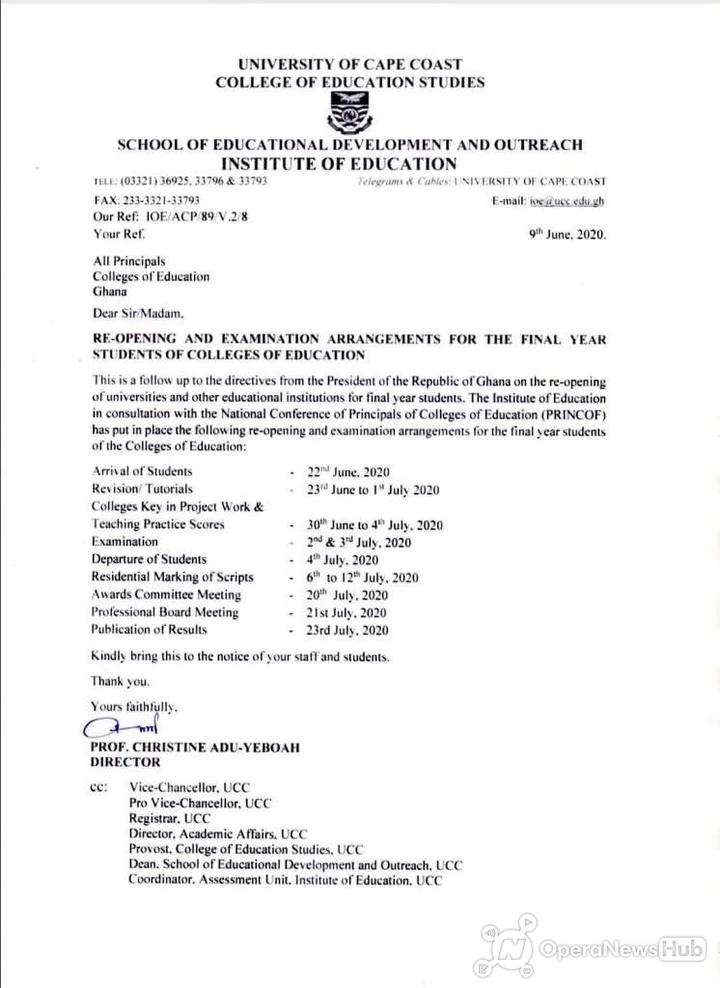 CLICK HERE TO JOIN OUR WHATSAPP GROUP
Keep visiting Tertiary Ghana for your most reliable campus news